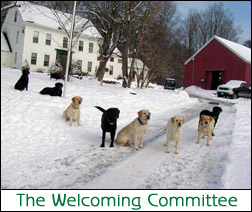 About Us
Thank you for your interest in my Labrador Retriever breeding program. I have a small kennel that produces 1-2 litters per year of quality Labrador Retrievers. Before I start telling you about my pups, let me give you a brief lesson on what I do before they arrive.

First of all, temperament is my number one priority for my breeding program. My Labs have very sweet, gentle, calm temperaments. I attribute that to their breeding/pedigrees and the way I raise my pups.

Many, many hours go into the research, comparison, analysis of pedigrees and medical records to make sure they will produce the kind of Labs that I want. I breed Labs to produce what I want in the breed first - the temperament, the conformation, soundness, the blocky head, the color, a nice thick tail, nice topline, etc.

My hope is that with every breeding I do, I can produce Lab puppies that meet and exceed the Labrador Retriever standard, thereby preserving the wonderful qualities of the breed. I don't just breed to sell a puppy - that is the second part. When I do sell a puppy I make sure that the people I sell to are of the highest quality I can find. I want only the best for these pups, as I am responsible for bringing them into the world. My clients are like extended family. They write, call, email, and send pictures of their Labs as they grow and mature. I welcome all the news and visits.

I feel a very strong bond to all of my Labs throughout their lives. I have a clause in my contract that states at any time in my Labs lives if the owners cannot keep them for any reason they are to be returned to me. I bring them into the world, and I will be responsible for them throughout their lives.

All Carriage Hill Labs breeding stock have OFA clearances for hips and elbows, their eyes are tested every year and DNA cleared for many conditions.